Kostroj Strojegradnja d.o.o.
Any good process can be even better
Production Company
With a long tradition of constructing machinery for industry and various transport devices
Innovative ideas
We think innovatively and invest in the development of new technologies and skills
Guaranteed quality
With our products we guarantee the highest quality in all areas of business
Customer Service
We strive to ensure the satisfaction of our customers and offer them support in all areas
Short Company Overview
Kostroj Strojegradnja is the company which preserve the tradition of machine-maker but after Slovenian independence made a redirection and start business on West-European market. Program of building tannery machines is continuation of its previous action but it has been extended to many additional area: machinery for iron/steel-works, paper industry, building various transport devices, etc… In the last 5 years, the company invested a lot to renew and improve manufacturing capabilities. Today we own modern CNC-machines. That make us qualified to realize even the most complex projects in mechanical engineering branch. In the year 1999 Kostroj Strojegradnja received Certificate of Quality ISO 9002. In year 2009 we upgraded it to ISO 9001:2008. In year 2018 we have made a upgrade to latest version of QSM to version ISO9001:2015.
Quality certificates
Welding certificates
F-IAR- Workplace conditions assesment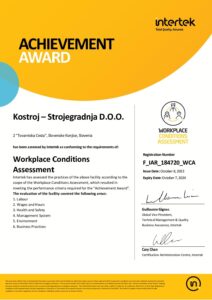 (c) Kostroj strojegradnja d.o.o., april 2019